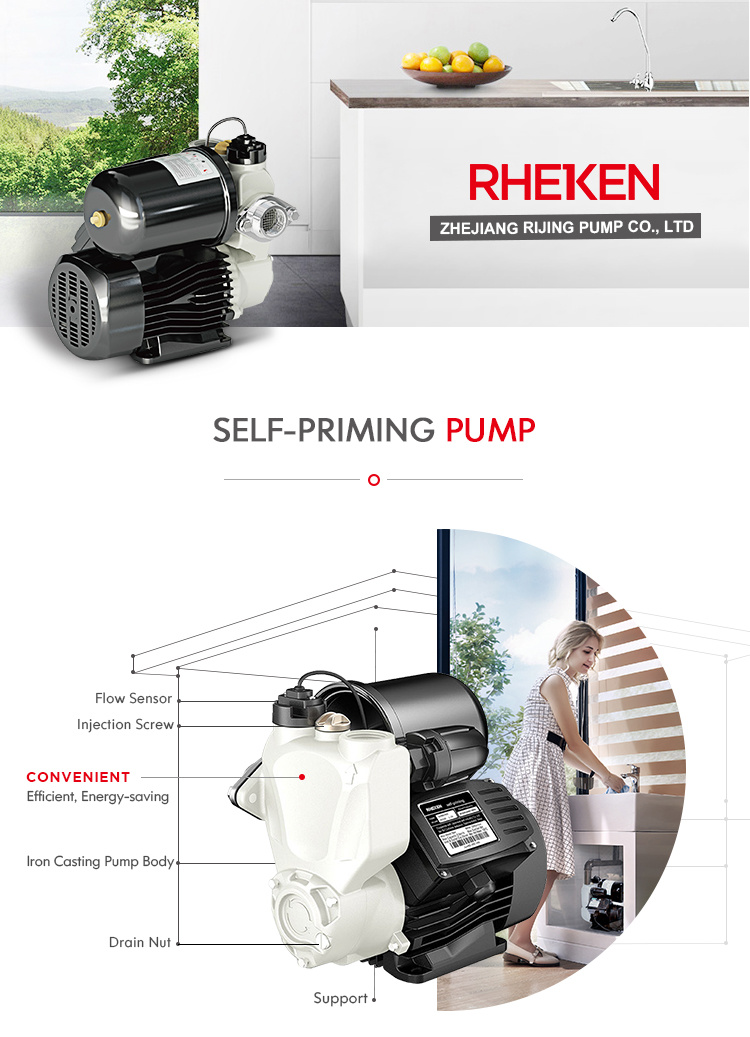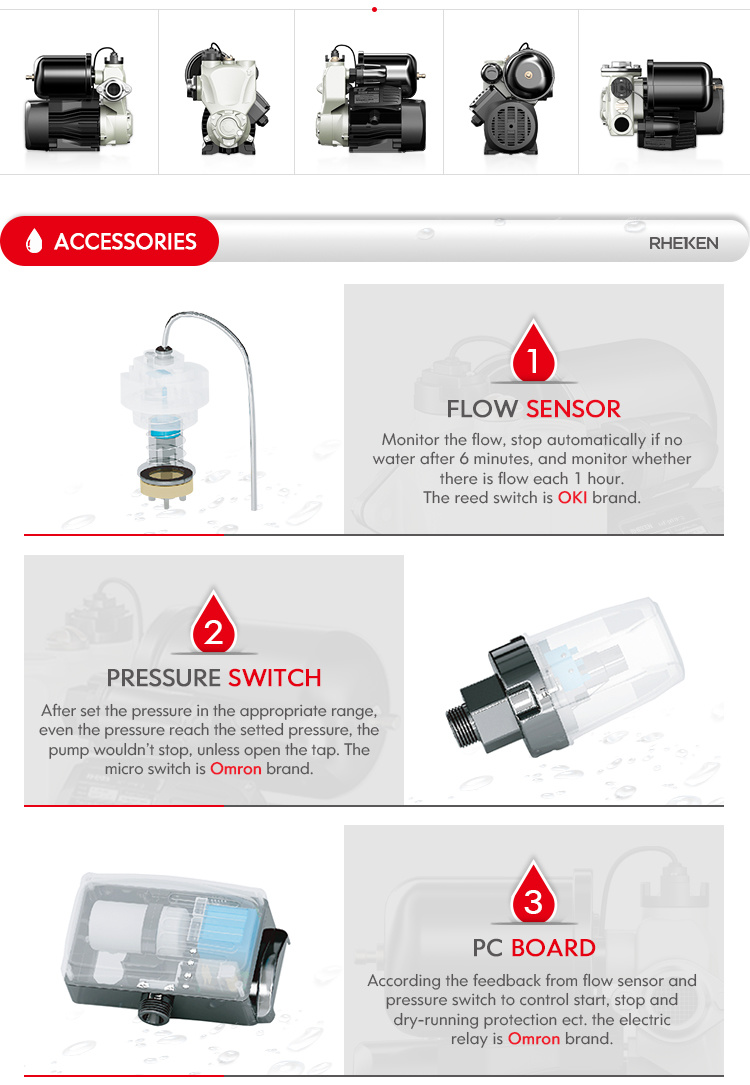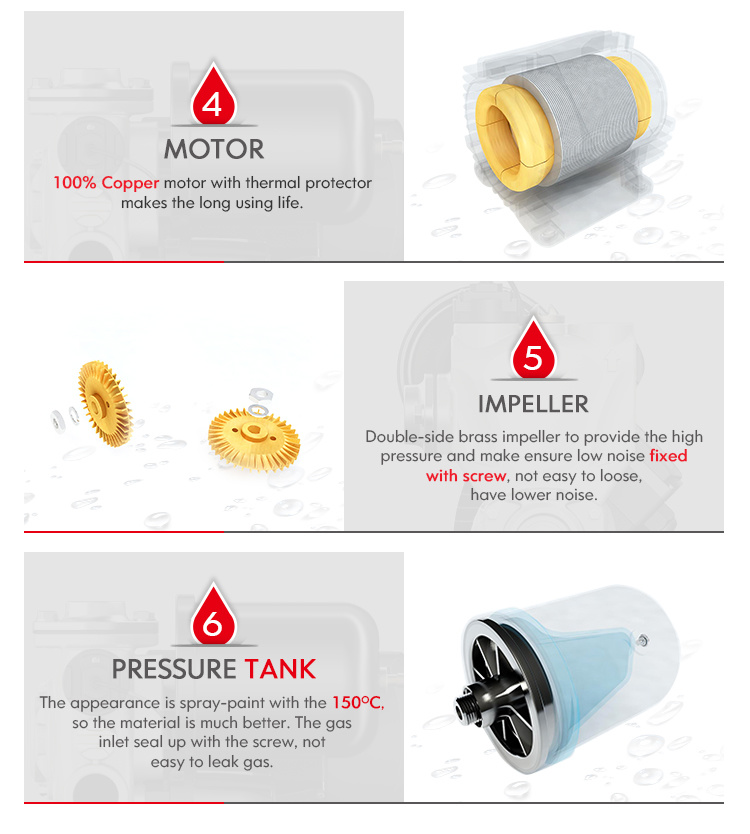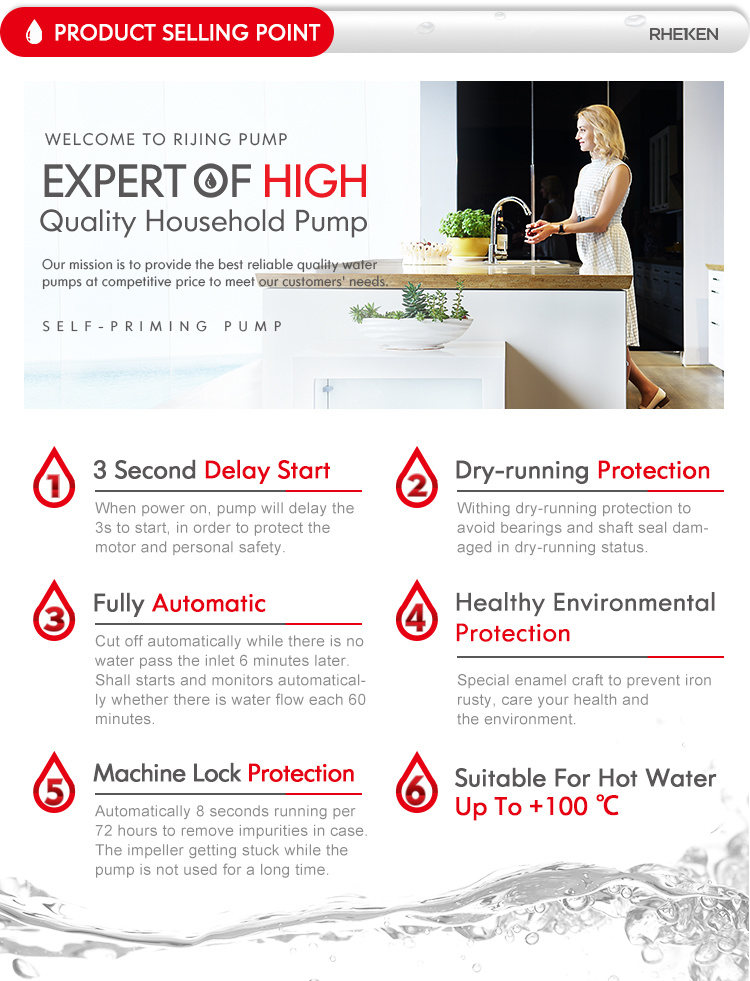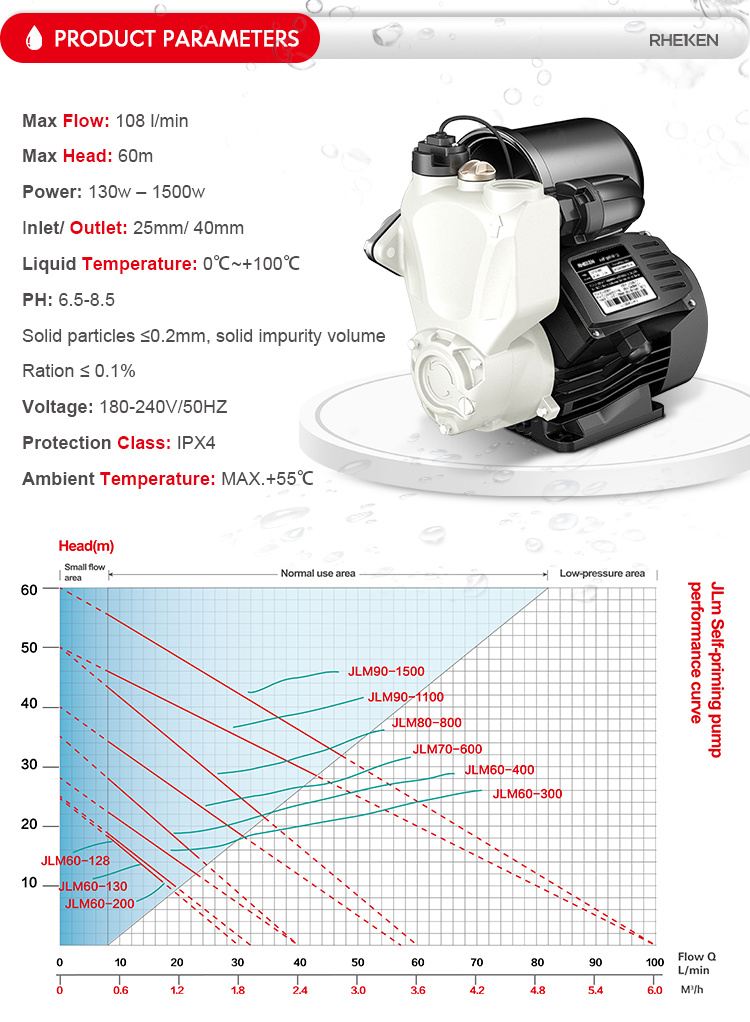 | | | | | | | | | |
| --- | --- | --- | --- | --- | --- | --- | --- | --- |
| Model | Power Frequency | Rated Power | Current | Max. Head | Suction | Max. Flow (L/min) | Pipe Size | Gross Weight |
| | | | | | | | | |
| --- | --- | --- | --- | --- | --- | --- | --- | --- |
| JLm60-130A | 220V/50HZ | 130W | 1.5A | 25m | 8m | 30 | 25mm | 9.2kg |
| JLm60-200A | 220V/50HZ | 200W | 2.0A | 25m | 8m | 41 | 25mm | 9.5kg |
| JLm60-300A | 220V/50HZ | 300W | 2.5A | 30m | 8m | 41 | 25mm | 10.2kg |
| JLm60-400A | 220V/50HZ | 400W | 2.7A | 35m | 8m | 41 | 25mm | 10.5kg |
| JLm70-600A | 220V/50HZ | 600W | 4.2A | 40m | 8m | 50 | 25mm | 13.5kg |
| JLm80-800A | 220V/50HZ | 800W | 5.2A | 45m | 8m | 58 | 25mm | 14.7kg |
| JLm90-1100A | 220V/50HZ | 1100W | 8.0A | 50m | 8m | 100 | 40mm | 21.0kg |
| JLm90-1500A | 220V/50HZ | 1500W | 10.0A | 60m | 8m | 108 | 40mm | 22.6kg |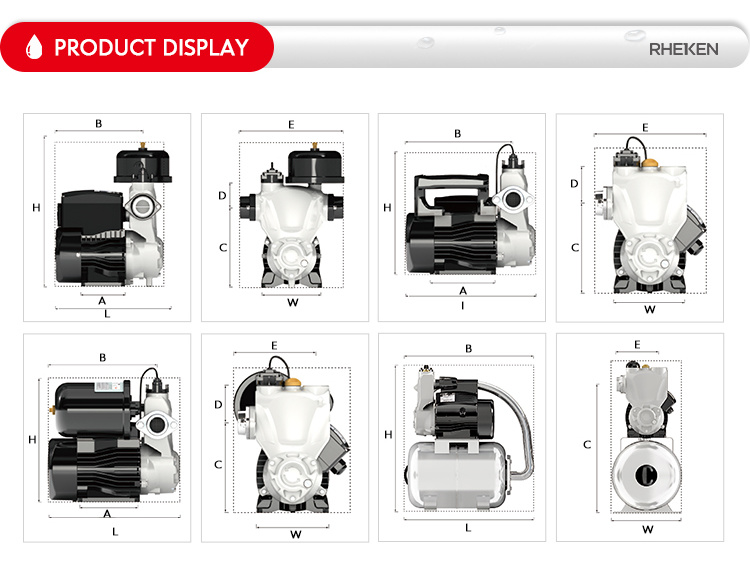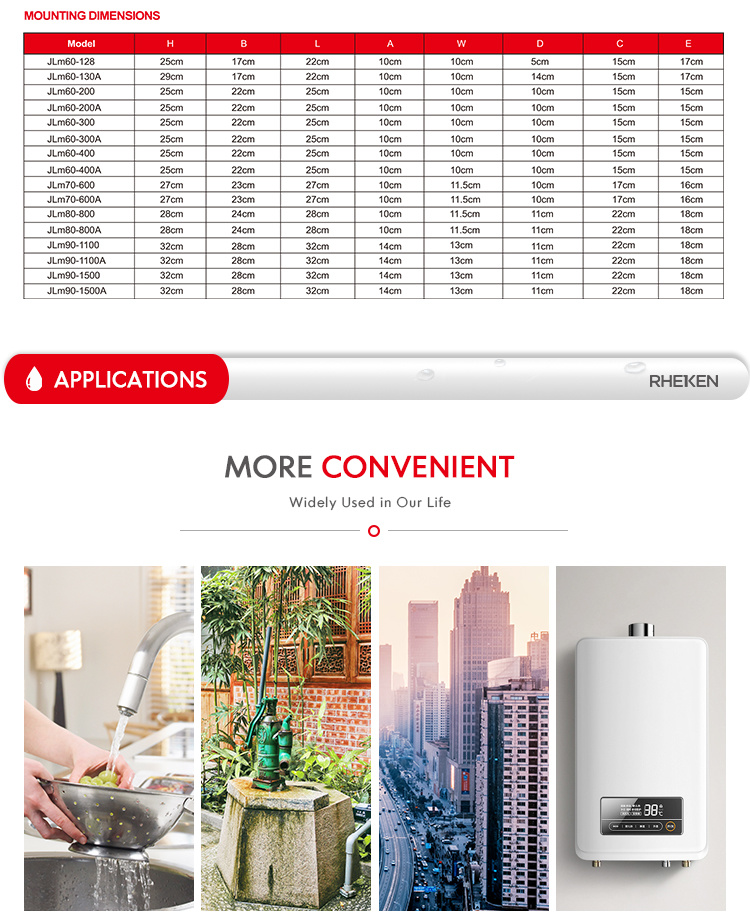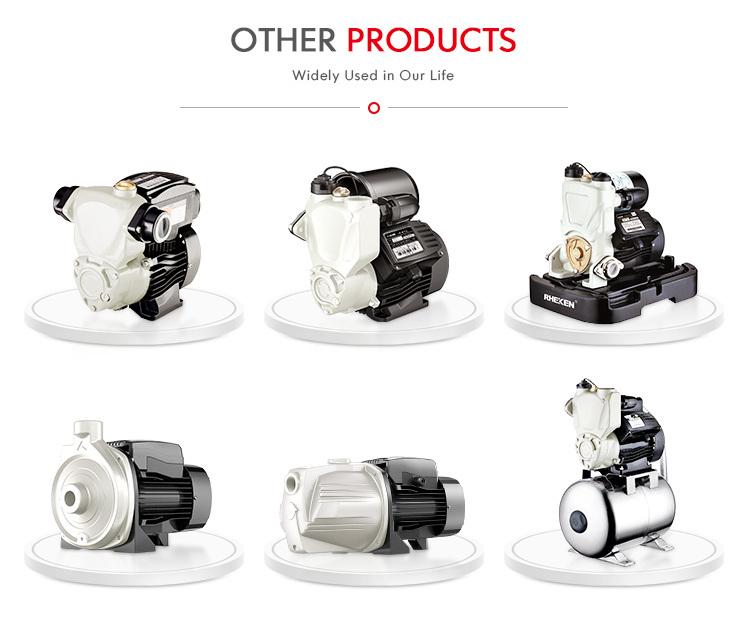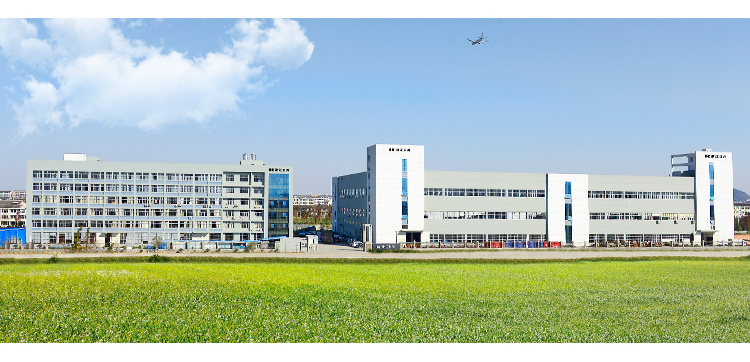 Zhejiang Rijing Pump Co., Ltd. is specialized in manufacturing of high quality water pumps for water pressure boosting system, constant living water supply, irrigation of garden and farm. As the innovator and leading manufacturer of Automatic Self-Priming pumps in China,we always keep our excellence and make progress constantly.
Our mission is to provide the best reliable quality water pumps at competitive price to meet our customers' needs.
Our company has built advanced production line included environment friendly Automatic Power Coating Equipment made by Gema Switzerland and Automatic winding production line with fully computerized quality test to make sure each pumps we made is in line with world leading standard. We put all our efforts to ensure that RHEKEN pump is a synonym for "Quality" "Reliability" and "Innovation".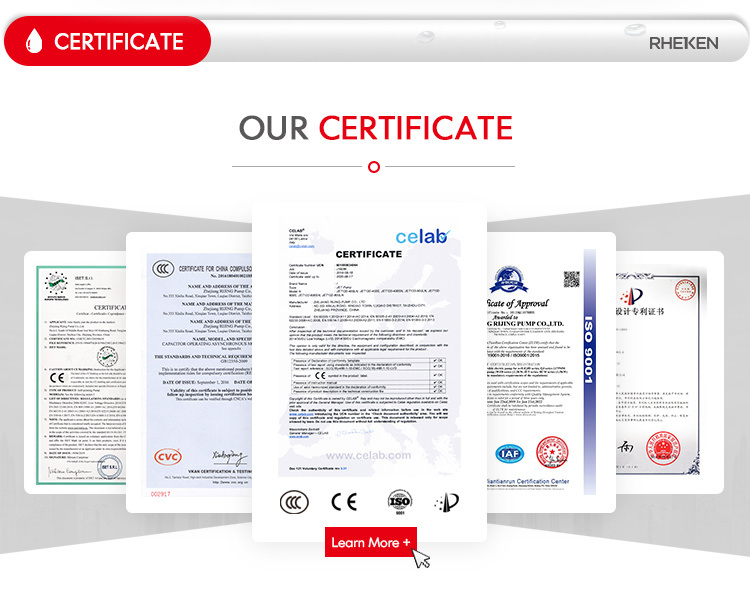 Q: what is the feature of your products ?
A: Our products have 3 obviously features: quite, clean, powerful.
What's more, it is automatic and can use for hot and cold water.

Q: What is your MOQ ?
A: 100 pcs per model for factory brand and package.
500 pcs per size for OEM brand and package.

Q: What is the delivery time ?
A: 3-5 days for samples.
30 days for mass production.

Q: What is the price term ?
A: FOB, NINGBO.

Q: What is the payment term ?
A: T/T. 30% deposit and 70% against the BL copy.

Q: How about warranty ?
A: 18 months.