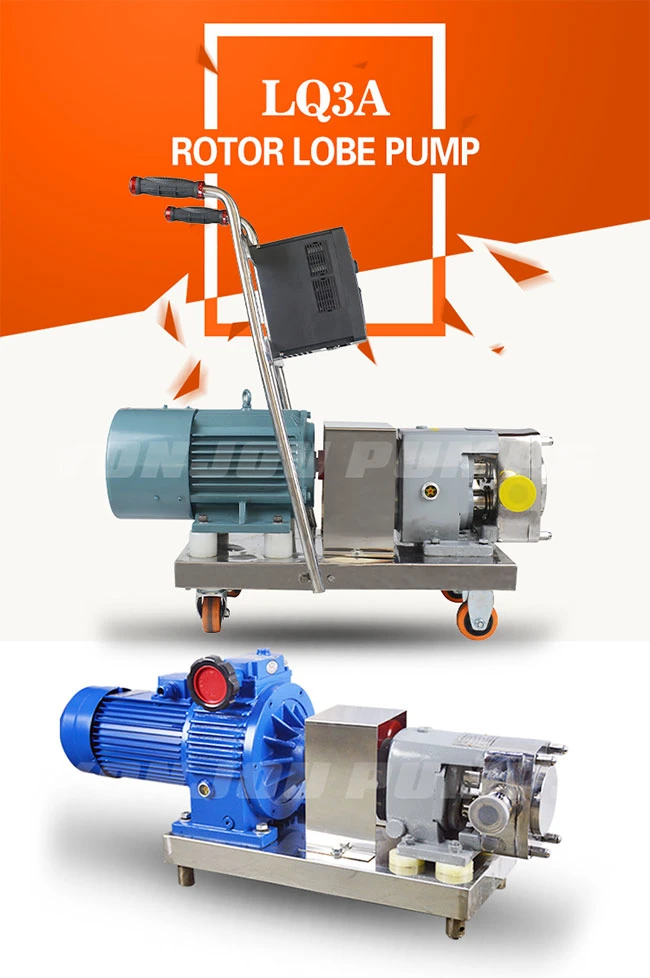 Summarize:
Lobe pumps are used in a variety of industries including, pulp and paper, chemical, food, beverage, pharmaceutical, and biotechnology.

They are popular in these diverse industries because they offer superb sanitary qualities, high efficiency, reliability, corrosion resistance, and good clean-in-place and sterilize-in-place (CIP/SIP) characteristics.

These pumps offer a variety of lobe options including butterfly lobe, double lobe, triple lobe.

Rotary lobe pumps are non-contacting and have large pumping chambers, allowing them to handle solids such as cherries or olives without damage. They are also used to handle slurries, pastes, and a wide variety of other liquids.
Product details:
| | |
| --- | --- |
| Working Principle: | Double rotors |
| Main Applications: | Food applications, Polymers, Paper coatings, Soaps and surfactants, Paints and dyes Rubber and adhesives. |
| Driver: | Variable Speed Motor, Geared Motor, Variable Frequency Motor |
| Power Specs: | 220V, 240V, 380V, 400V, 415V, 440V, 460V, 50hz/60hz |
| Max.permissible fluid temperature: | 150°C (302°F) / 250°C (482°F)-water cool type |
| Type of connection: | Quick couple, Thread, Flange |
| Installation position: | Horizontal |
| Casing/Inner parts material: | Stainless Steel |
| Shaft seal type: | Mechanical seal |
| Maximum viscosity: | 1x106 C.S.T |
| Maximum drive rating: | 22kW(30HP) |
| Maximum caliber: | 125mm(5inch) |
| Maximum discharge-side pressure: | 5bar |
| Suction pressure: | 0.08Mpa(0.8bar) |
Performance data:
Type

Size

(mm)

Discharge

Capacity

per 100r (L)

Speed Range

(rpm)

Flow

(L/H)

Motor Power

(kW)

LQ3A-6

25

6

200-500

650-1600

0.75

LQ3A-8

32

8

200-500

850-2160

1.5

LQ3A-12

38

12

200-500

1300-3200

2.2

LQ3A-20

38

20

200-500

2100-5400

3

LQ3A-30

42

30

200-400

3200-6400

4

LQ3A-36

42

36

200-400

3800-7600

5.5

LQ3A-52

50

52

200-400

5600-11000

5.5

LQ3A-66

62

66

200-400

7100-14000

7.5

LQ3A-78

75

78

200-400

9000-18000

7.5

LQ3A-100

75

100

200-400

11000-22000

11

LQ3A-135

100

135

200-400

15000-30000

15

LQ3A-160

100

160

200-400

17000-34000

18.5

LQ3A-200

125

200

200-400

21600-43000

22